On Monday 15 September 2014, the British High Commission hosted a farewell reception for Siti Nurfateha Abdullah who has been awarded a prestigious Chevening Scholarship for the 2014–2015 session and will be pursuing her postgraduate studies in the United Kingdom this month. The farewell event was held at the Residence of the British High Commissioner to Brunei.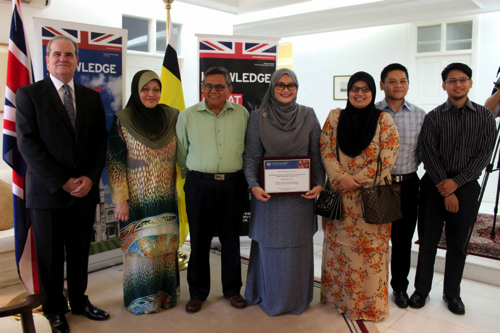 Siti Nurfateha Abdullah will be pursuing a Masters in Anthropology of Development and Rights at Goldsmiths, University of London. Employed as a Research Officer in the Prime Minister's Office, Nurfateha selected Goldsmiths as its Anthropology Department is voted among the best in the UK.
Nurfateha, who is also the co-founder of the non-profit organisation Bruneians:Read and webzine Songket Alliance, said
"Goldsmiths' Anthropology Department takes a critical view of developed countries' approach to development. Therefore, discussions and classes will be stimulating as it does not view any one philosophy as absolute, but also takes into consideration societal differences.
Goldsmiths advocates an ethnographic approach to learning about society and basic human rights like education, women's and children issues, and healthcare. This approach is useful to keep in mind as I will be able to apply what I'll be learning to Brunei without forgetting its policies, culture and philosophy.
Having previously taken my Bachelor's Degree at the National University of Singapore, going to the UK will be my first direct exposure to the British education system.
Being awarded the Chevening scholarship was unexpected. I've looked up to and been in awe of some of the previous Brunei recipients of the scholarship, so I'm honoured to be a part of that line-up. I'm really looking forward to networking with scholars from other countries' too! I hope to come back to Brunei bursting with ideas for my work at the Prime Minister's Office and projects I'm a part of."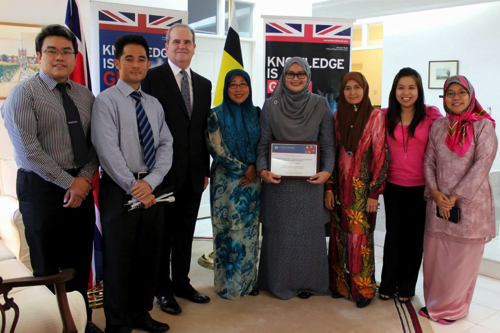 The British High Commissioner Mr David Campbell, said:
"I congratulate Siti Nurfateha Abdullah on joining our long list of prestigious Bruneian Chevening scholars. 2014 marks not only Brunei's 30th Anniversary of Independence, but also the 30th anniversary of the British Government's Chevening Programme. Thirty years of scholarships around the world have created an influential global network of more than 43,000 Chevening alumni in over 150 countries."
Applications for the 2015/16 Chevening Scholarships are currently open for citizens and permanent residents of Brunei Darussalam. The ideal candidate would be in early to mid career, with at least 2 years' work experience and an excellent record of achievements which show evidence of leadership qualities. Applicants should be committed to returning and contributing to Brunei's social and economic development by utilising skills and knowledge acquired in the UK.
All those interested in applying for 2014/2015 Chevening scholarship should visit www.chevening.org/Brunei where potential applicants can find out more information on how to apply, register interest to receive alerts about application and candidate guidance, as well as see the priority subjects for Chevening Scholarships. The deadline for applications is Saturday 15 November 2014.