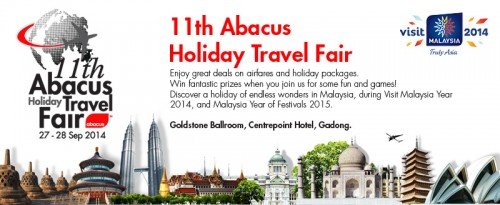 Abacus Distribution Systems (Brunei) Sdn Bhd will launch the 11th Abacus Holiday Travel Fair on Saturday, 27 September 2014 at Grandstone Ballroom, 7th Floor, The Centrepoint Hotel, Gadong.
The two-day fair, organised by Abacus Brunei will provide Abacus travel partners including airlines, national tourist offices, hotels and travel agents a unique platform to promote and showcase their products and services. The fair aims to stimulate demand at both ends of the spectrum, providing travellers with the convenience of shopping for a wide range of great travel deals under a single roof.
"At Abacus Brunei, we have successfully organised ten previous travel fairs since 2004," said Ms Irene Soon, General Manager, Abacus Brunei. Abacus Brunei thanks its partners as well as travelers for their support in the previous travel fairs. At this much anticipated event, we are looking forward to delivering fresh content and attracting thousands of people in search of their dream vacations."
"With the support of our partners and travel agents we are confident that we will be able to see a positive growth again this year." Irene added.
Abd Halim Haji Abd Rahman, Sales & Marketing Manager, Abacus Brunei explained "There will be seven Abacus Brunei based travel agents participating in this travel fair connected to more than 40 Abacus terminals. This will help travel agents efficiently service visitors."
He continued "The travel fair provides an excellent opportunity for Brunei-based travelers to shop for both overseas and local packages making it an event on the travel calendar not to be missed."
Tourism Malaysia as well as Taiwan Visitors Association and Tourism Authority Thailand based in Kuala Lumpur will be participating again in this fair. Baiduri Bank Berhad, Royal Brunei Airlines (RB) and Singapore Airlines will be having their booths to extend support to the participating travel agents as well as provide assistance to the visitors.