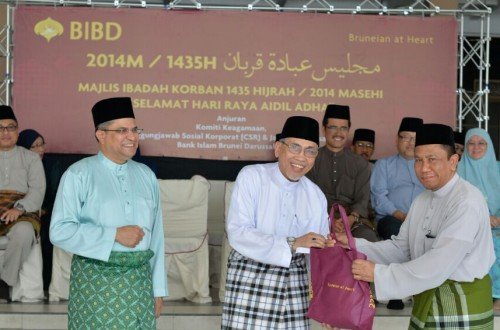 In light of the festive Aidil Adha celebrations, BIBD today held its annual Korban ceremony at the Sultan Sharif Ali Mosque in Sengkurong.
The event was attended by Deputy State Mufti and Chariman of the BIBD Shariah Advisory Body, Yang Dimuliakan Pehin Orang Kaya Paduka Setia Raja Dato Paduka Seri Setia Awang Haji Suhaili bin Haji Mohiddin along with BIBD Managing Director Javed Ahmad. Also present were members of the BIBD senior management along with its staff.
The event started with prayers to initiate the distribution of the Korban meat process. The event ended with a recital of the Doa Selamat.
A total of four buffaloes and nine cows were sacrificed, with the Korban meat distributed to around 100 recipients, comprising of family members of BIBD's ALAF program, the Welfare Home Complex (Kompleks Rumah Kebajikan) along with other underprivileged members of the community. BIBD also took this opportunity to donate 150 Yaasin and prayer books to the Mosque.