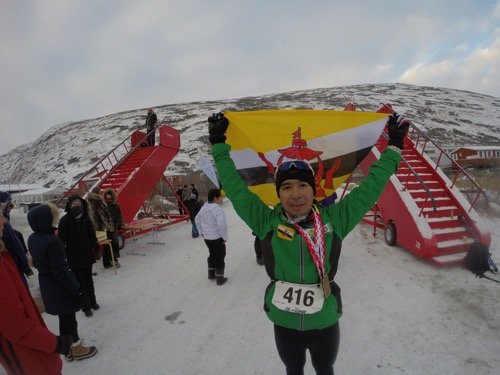 BIBD, via its Corporate Social Responsibility initiative, showed its full support for Asari Rashid to become the first Bruneian to participate in the Polar Circle Marathon. BIBD's support for Asari was aimed to create and raise awareness for developing a community that cares, whilst playing its role as an integral and strong partner of the community.
This partnership is developed to encourage a positive influence and inspire other members of the community to support similar awareness raising efforts. Asari is an epileptic PhD student from Newcastle University, UK and a lecturer in Institut Teknologi Brunei. He is also the 1st Bruneian to run the Polar Circle Marathon, participating in the Polar Bear Challenge, which tested his ability to run both the marathon and a half-run within the two days of the competition.
Earlier before the Polar Circle Marathon, Asari mentioned, "I've had a lot of people telling me it's difficult but this is something I really want to try." Asari, clearly unfazed by the idea of the run, continued, "I was diagnosed with epilepsy in 2009 with tendency of having seizures but it has never stopped me from doing what I love. I am also very thankful to BIBD for providing me with the opportunity to embark on my dream, as together we are able to show the world that everyone has the ability to succeed, regardless of their drawbacks.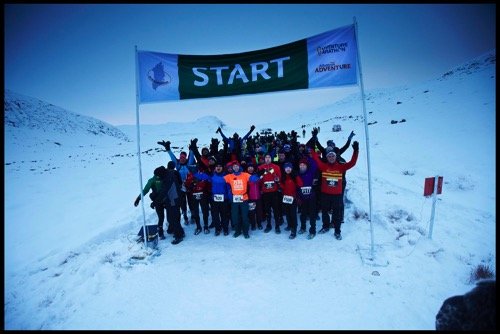 "I was inspired to take the feat in order to raise awareness of the needs of people with diseases and show that we are both resilient and determined not to let it become an obstacle in pursuing our dreams including achieving better education. Everyone needs education and it will start from their adolescence, children need to be given as much opportunity in life as possible."
Asari is no stranger to long distance running, having trained with the Tyne Bridge Harriers running club, had already competed in numerous challenges including completed a Aviva Singapore Ironman 70.3, three marathons, and an Ultramarathon "The Wall" from Carlisle to Newcastle Gateshead, which saw him running 110km miles in an impressive 15hrs and 55mins. The Polar Circle Marathon included a classic 42.195km marathon and a half marathon.
The Marathon was held in the worst running conditions of under – 20°C in Kangerlussuaq, Greenland for two consecutive days. Starting at Kangerlussuaq, the run passes the endless ice and arctic tundra of Greenland, which makes up the glacial deposit landscapes and soundless arctic desert. Part of the route takes place on the 100,000-year-old ice sheet but the main part of the race is run on roads, mostly covered in snow that connects to the inland ice just north of the Polar Circle.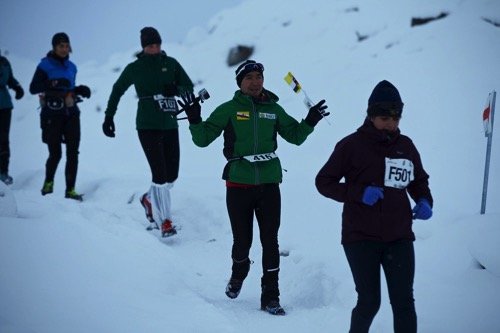 A similar effort for awareness, BIBD's ALAF Programme (Advocating Life-Long Learning for An Aspiring Future), provides a similar avenue for all members of the public to support and provide assistance to underprivileged and orphaned students, through sponsorships of basic needs, educational items and welfare, as well as mentoring and counselling, so that the students can stay focused on their education and maximise their potential.
Through ALAF, BIBD hopes to lend its support to His Majesty's 2035 vision of achieving a 100 per cent level of education and over time, reduce poverty in Brunei. To further support the aspiration of this program and to enable the deserving students to pursue their education and dreams, members of the public are welcome to provide contributions with a minimum of B$1.01 via the bank's e-banking channels, BIBD Online, BIBD Mobile, or use any BIBD ATM machines.
The public can also use the standing instruction function in their accounts to provide a continuous donation stream into the ALAF account at 1018181811.