May 20th, 2015 – Bank Islam Brunei Darussalam (BIBD), Brunei's leading financial institution, organised today a media familiarization visit at its flagship branch in Kiulap to foster better understanding on BIBD's services and operations, as well as its commitment to provide innovative, world-class banking solutions to customers from all walks of life.
During the visit, the respective media were given a tour of BIBD Kiulap Branch, PERDANA Banking lounge, BIBD Contact Centre, as well as briefing by Mr. Imran Samee, BIBD's Head of Consumer Banking, and team. The briefing session on BIBD's unique approach to customer service and key innovations, coupled with site tour and live simulation of the Bank's services, gave media a dynamic understanding of the flagship branch's best-in-class facilities and the groundbreaking initiatives that BIBD has undertaken in recent years.
"Our efforts and investments across our operations, products, and services are all geared towards providing a highly performant and enjoyable experience for all customers, individuals and corporations alike. BIBD's refurbished branches perfectly demonstrate our 'Bruneian at Heart' values, providing customers in Brunei with world-class yet relatable and refreshed retail experience," said Mr. Imran.
Inspired by the warmth of Bruneian hospitality and its heritage as a nation, the flagship branch features upgraded facilities and better service-based ambiance, ensuring that the best services and practices would be delivered to all of BIBD's existing and potential customers. Located one level above BIBD Kiulap branch, the exclusive PERDANA Privilege Banking lounge is equipped with comforts expected by premium customers. Privacy, confidentiality, comfort, dedicated Relationship Managers, and other privileges are available for BIBD PERDANA Privilege Banking account holders in the luxurious lounge.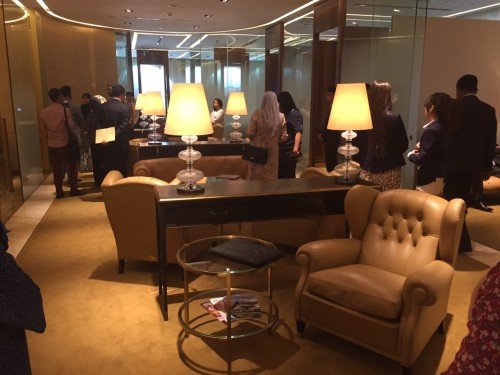 "Our motivated and dedicated employees take our service offering to the next level and set us apart from our other banks in the country. Perfectly capturing the essence of inclusiveness of Islamic Banking, our stellar workforce personify 'Bruneian at Heart' every day, always accessible to customers from all walks of life, Muslims and non-Muslims, and willing to help solve their financial problems," added Mr. Imran.
BIBD's success hinges on the unified teams who are committed to make a difference to the lives of its customers and the community. The Bank's service culture, RISE (Reliable, Innovative, Simple and Ever-Caring), sets the standards for its customer service, providing the ultimate customer experience that is on par with, if not above, international standards.
"We strive to be at the forefront in service and technological innovations, providing all our customers with world-class financial services and customer experiences that are uniquely Bruneian. In today's constantly evolving environment, we want to provide them with one-stop and customized financial solutions that are tailored to meet their needs wherever and whenever they need us. All BIBD's channel complement each other while seamlessly integrating between one another, giving customers the flexibility that they are coming to expect in their digital lives," commented Mr. Javed Ahmad, Managing Director of BIBD, during the media familiarization visit.
Since 2010, BIBD has continuously invested in its infrastructure, spearheading cutting-edge initiatives in the region. BIBD Mobile is the region's first mobile banking application that revolutionized the way customers in Brunei store and transfers their money. From Jan 2013 to April 2015, BIBD's active mobile banking customer base has seen an impressive 418 per cent growth.
Understanding today's customers' busy schedule, the Bank has also invested heavily in expediting banking processes, with the rollout of automated account opening services through the use of technology to reduce account opening times for its customers. In keeping with the ever-growing use of mobile devices, the Bank constantly strengthens its mobile and online banking platforms with revolutionary new features and benefits, such as eCommerce, mCommerce, virtual prepaid MasterCard, and mobile notification alert.
"Our initiatives in recent years have helped shape the banking behaviors of our customers. We are pleased to note that we saw a huge improvement in customer interactions with BIBD. Almost 90 per cent of online transactions are now performed through mobile banking, enabling customers to access BIBD services at every touch point of their everyday lives," added Mr. Javed.