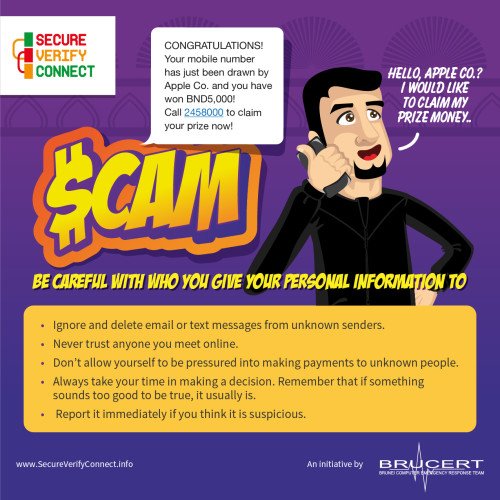 Online Scams
A scam is a way of cheating people intentionally without having to obtain someone's personal details. Instead, it is the victim who usually gives away their personal information to the scammer.
Here are some examples of scam:
A common scam these days is when you receive a text message from an unknown number saying that you have won a lot of money, and asking you to call them for details.
Another example of a scam is by email from an unknown sender saying that your colleague who is attending a course overseas has been robbed and is now in need of your help to get him back home. It also claims that he cannot contact you because all his things are gone, so he has asked someone to tell you about this matter. The email includes an account number so that you can send him the money, which he promises to pay you back.
The worst example is when you befriend someone through online chatting, who in fact is a scammer. After trust has been established, the scammer will make up stories that he had sent you a parcel containing a valuable gift but now the parcel is held up at the Customs office in his country and asked you to send money to his account in order to clear the parcel from Customs.
How can you protect yourself from being scammed?
Ignore and delete email or text messages from unknown senders
Never trust anyone you meet online
Don't allow yourself to be pressured into making payments to unknown people
Always take your time in making a Remember that if something sounds too good to be true, it usually is.
Report it immediately if you think it is suspicious
How can I report a scam?
Contact the Royal Brunei Police Force's Commercial Crime Investigation Division.
This article is part of a series for a campaign run by Brunei Computer Emergency Response Team (BruCERT) which is a team under ITPSS. For more info, do check out their website.