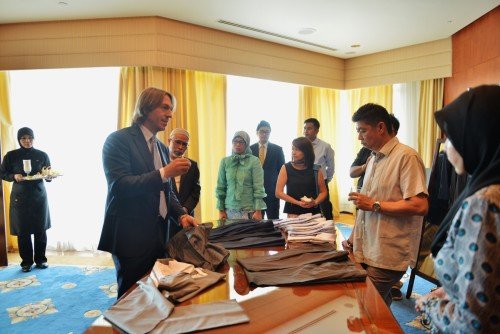 BIBD Perdana members today were exclusively invited to relish the Su Misura (Made-To-Measure) experience from Italian luxury tailors, Canali to create distinctive suits, jackets, trousers and shirts from the finest materials, all handcrafted in Italy.
BIBD will be bringing in Canali's very own master tailor, Alessandro Trevisan into Brunei to provide its signature Su Misura experience providing a unique in-depth consultation regarding as each customer's specific tastes and needs.
This allows the master tailor to identify a basic style and cut of garment that best fits any taste and body shape, and collect the measurements and alteration specifics to ensure that the Su Misura suit is made according to the customer's movements, posture and styling preferences.
The experience also allows the participant to select from Canali fabrics ranging from comfortable stretch and water resistant wools to pure cashmere and soft blends of angora, camel and mohair, along with classic pure wools, linen and silk blends and ultra-fine Super 200s – textiles of rare quality for the true connoisseur.
Once fitted and fabrics have been chosen, the Su Misura process allows garment personalization such as a wide variety of buttons to belt loops and extra pockets. Each Su Misura suit is unique and, as a mark of this, comes with a label embroidered with the customer's name.
The exclusive invitation for the fitting is amongst the many privileges of becoming a member of BIBD Perdana Privilege Banking. Other recent events include the launch of the Jaguar XE, annual Perdana Golf Tournament and exclusive property talks to help diversify their portfolio, ultimately enhancing your Perdana experience.
Other benefits of becoming a BIBD Perdana member include special treats and privileges at selected merchants along with a complimentary membership to Priority Pass which provides you access to 850 airport lounges in over 120 countries and 400 cities worldwide.