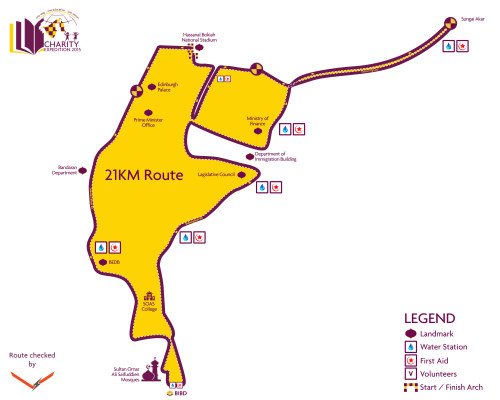 Bank Islam Brunei Darussalam (BIBD) today reveals it's race and cycling route for the upcoming BIBD Charity Expedition for ALAF 2015, which will take place on Sunday, 25th October 2015 at the Sultan Haji Hassanal Bolkiah National Stadium.
The BIBD CE ALAF race consists of a half marathon, 10km, 5km and a 3km Fun Run, as well as cycling; which will involve close to 5000 supportive and enthusiastic participants, and as many as 500 volunteers. The BIBD CE routes were created and verified by Victory Athletes, and further supported and approved by the Brunei Athlete Association and Royal Brunei Police Force, respectively, to ensure that these routes are safe for use by the CE ALAF participants during the event day.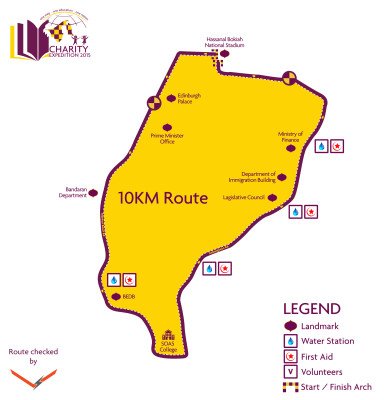 In preparation for the CE ALAF, BIBD will open its REPC (Race Entry Pack Collection) day from 16th until 18th October at the Indoor Stadium, Berakas with the following opening hours:
16th October 9.30am to 11.30am (Closed for Friday Prayer), 2.30pm to 9.00pm
17th October 9.30am to 9.00pm
18th October 9.30am to 9.00pm
During REPC, registered participants will collect their CE ALAF T-shirts, bib and sling bag, upon presenting their confirmation letter together with donation card and payment slip. In addition, the first 1500 successful registrants will also receive their limited edition CE ALAF bag, meanwhile participants who managed to raise donations in excess of $100 will also receive incentive in the form of BIBD corporate gift.
Other activities that can be expected during the REPC day, selected vendors such as VICTORY ATHLETES, AEWON, POLAR, The Marathon Shop and Raw Food Asia, will be displaying and providing special offer on their products, which is exclusive
for CE ALAF participants.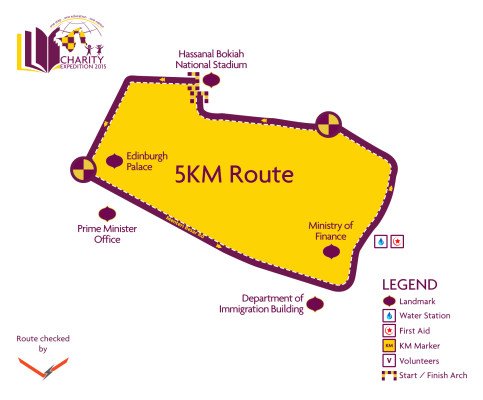 Just less than 2 weeks away, BIBD's wish to invite the public to join us at the CE ALAF event and make it a recreational activity with friends and family, and at the same time join us to support this charitable effort.
During the CE ALAF event, there will be a Charity Bazaar which opens from 6.00am until 2.00pm, and will be participated by forty vendors including popular online food and apparel vendors, as well as, well-known names such as Coffee Bean & Tea Leaf, KFC, Jollibee, Baker Blush, Kapow Burger and many more.
In order to avail the varieties of items on offer, the public is required to purchase coupons as official currency at all the participating vendors at the Charity Bazaar. The coupons can be purchased during the REPC days on 16, 17 and 18 October, as well as during the CE ALAF event on 25 October. And in line with the key aim of organizing the CE ALAF, a portion of the proceeds from the Charity Bazaar fees and sales will be contributed to the BIBD ALAF fund.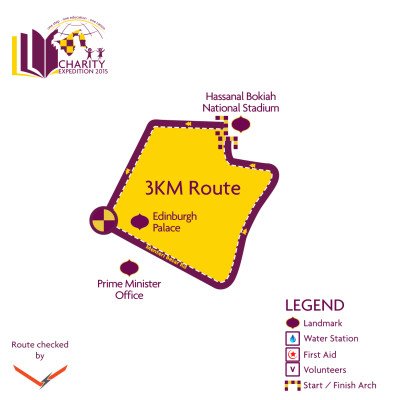 In further ensuring the BIBD CE ALAF will run smoothly, the Bank has received overwhelming support via volunteerism from the public, NGOs, private sectors, educational institution and individuals; who will be assigned various roles and responsibilities, in order to provide support and assistance for the CE ALAF participants. To achieve this, briefing sessions were conducted for the volunteers which was held at Kolej Universiti Perguruan Ugama Seri Begawan (KUPUSB).
Hjh Nurul Akmar, Head of Corporate Social Responsibilities BIBD commented, "Alhamdulillah, we are thankful for the support shown by our CE ALAF participants, corporate partners, sponsors, supporters and volunteers. We hope this will be yet another successful fund raising event for the BIBD ALAF Program".
"In shaa Allah, through the involvement of all these stakeholders, as well as the public, we will be able to create further awareness, raise more funds, and ultimately provide the necessary support for better education opportunities to underprivileged children under the BIBD ALAF Program," she added.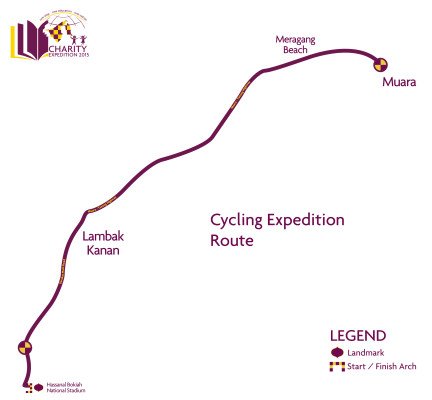 "Furthermore, through our partnership with the Ministry of Education and Ministry of Religious Affairs, we hope to contribute for the betterment of the Brunei education system, and foster academic and non-academic excellence among the underprivileged communities. Whilst internally, we hope to further strengthen teamwork amongst our employees, partners and volunteers as a
foundation for future efforts and as an advocate of social engagement."
The ALAF programme, launched in May 2013 by Her Royal Highness Paduka Seri Pengiran Anak Isteri Pengiran Anak Sarah, was developed in close partnership with the Ministry of Education, as well as the Ministry of Religious Affairs. This
joint collaboration will ensure the successful implementation and provision of assistance to the ALAF programme. The ALAF programme currently has eighty five students under its care, who receive provisions for school and tuition fees, educational materials and welfare, as well as mentoring and counseling necessities amongst others. All this is to help ensure the absolute commitment of these students towards the development of their education, and not let them be bothered by the other commitments that come with. The ALAF programme will also continue to provide support and assistance to the students until the
highest attainable qualification.
Through ALAF, BIBD hopes to align its support to His Majesty's 2035 vision of obtaining a 100% level of education to everyone, which in turn is hoped to help reduce poverty, In shaa Allah, leading Brunei towards a more prosperous and peaceful future, making Brunei populated with educated, highly skilful and successful individuals, in line with internationally set standards.
Apart from contributions during CE ALAF, members of the public wishing to contribute into the BIBD ALAF fund may do so with a minimum donation of B$1.01 into the BIBD ALAF account at 1018181811. Contributing is further made easier as the public can utilise existing BIBD channels such as the BIBD Online website, BIBD Mobile app, BIBD ATM and CDMs, and BIBD branch counters.
The public can also set up a BIBD Standing Instruction to ensure a monthly donation into the ALAF fund. As an added benefit, BIBD account holders can also use their accumulated BIBD Hadiah Points for cash conversion into contributions into the ALAF fund account.