All vehicles must pass a set of technical inspections before they are allowed onto the Shell Eco-Marathon Asia 2016 competition circuit to see how far they can go on the least amount of fuel, and potentially achieve the highest mileage in the competition.
Today after much work both Universiti Brunei Darussalam (UBD) GenNext Pejuang and Universiti Teknologi Brunei (UTB) ITB One-U are proud to receive their technical and safety inspection stickers.
After passing their inspections from redesigning their braking system, more challenges were faced by ITB One-U during their trial run.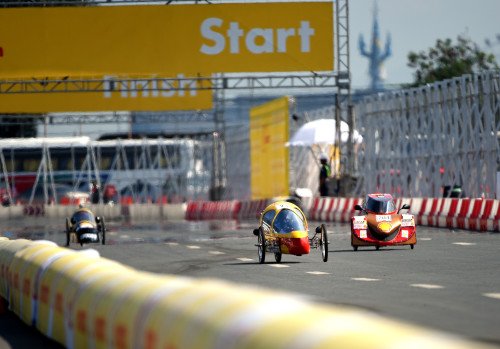 According to one of the Mechanical students, Ahmad Amthali, "We fixed the brake system with new brake layout and fixed all of it and we managed to pass the brake system inspection this morning. However, when we went to do the pre-test run, Pahlawan II's tyres burst and we had to go out to buy new tyres from the shops which costs us two hours.
We are honoured to be able to represent UTB and Brunei in such prestigious event. We will do our very best for UTB and Brunei."
UBD GenNext Pejuang passed their technical and safety inspection after several attempts to pass the stringent hydrogen fuel cell system inspection.
Once the Nakhoda's hydrogen system sequence was in place, the team had to readjust its hydrogen sensor's sensitivity and rewire its capacitor to ensure easy access to read Nakhoda's voltage.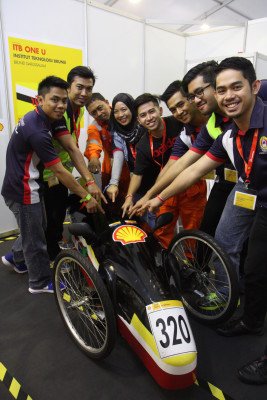 "Our issue was with the hydrogen system sequence, which took a while to fix. We were in the technical inspection for an hour and a half before we finally passed! At 1.30pm, I went on the track for my first attempt, however after the 7th lap, I had to return to my team as we had run out of time. We are going to make some changes to the gearing system to speed up the car," said Amirah Salamat, Nakhoda's driver.
Although faced with unforeseen challenges, the students continue to show enthusiasm and determination by endlessly making adjustments to their vehicles. They hope to achieve a valid official record on the track tomorrow as it will be the last day of the competition.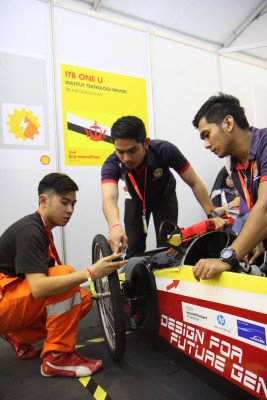 In addition to awards for achievements on the track, students are also vying for five Off-Track awards that test the team's creativity and technical skills, as well as their approaches to safety and sustainability. These awards are in the following categories: Communications, Vehicle Design, Technical Innovation, Safety and Perseverance and Spirit of the Event.
As of noon today, over 80 student teams have passed the technical inspection. Student teams have today and tomorrow to record their attempts on the circuit. The final results will be tabulated and announced at the closing awards ceremony tomorrow.
Shell Eco-marathon 2016 shows Shell's commitment to helping the world meet its growing energy needs in a responsible way, bringing together students, partners and the public.
To follow the journey of both teams, you can follow their Instagram accounts @ubdsem and @itb.sem.
About Shell Eco-marathon
Shell Eco-marathon began in 1939 at a Shell research laboratory in the United States as a friendly wager between scientists to see who could get the most miles per gallon from their vehicle. The winner of that contest barely achieved 50 mpg (21 km/l), and from these humble origins, a more organized competition evolved. In 1985 in France, Shell Eco-marathon as we know it today was born. In April 2007, the Shell Eco-marathon Americas event was launched in the United States, and in 2010, the inaugural Shell Eco-marathon Asia was held in Malaysia, up until 2013. Since 2014, the event has been held in Manila, Philippines, which will continue to host the event until 2016.