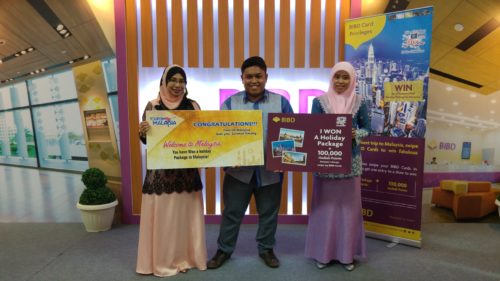 April 25, 2016 – BIBD and Tourism Malaysia today announced Hj Muhd Mazran Haji Suhut as the lucky winner of the 1Malaysia Year-end Sale during the BIBD Home Showcase at The Mall, Gadong.
The collaboration between BIBD and Tourism Malaysia automatically registered BIBD cardholders who made card transactions in Malaysia during the 1Malaysia GP Sale, which ended early this year, into a lucky draw. The winner was entitled to an all-expenses includes a five-day and 4-night paid holiday in Kuala Lumpur and Johor inclusive of airfare, accommodation, return airport transfers and a twelve-hour chartered car exclusively for them to go shopping.
To add to their great bundle, the winner is also entitled to 100,000 Hadiah Points, which can be used to pay for bills, make donations, among others. Presenting on behalf of BIBD was Siti Rafeah Hj Jakir, Head of Card Products, and for Malaysia Tourism, was its Director, Zurina Abd Samad.
On the other hand, the BIBD showcase highlights BIBD's financing packages such as its Home Financing, Home Improvement Financing, Education Financing and its Personal Financing along with other BIBD's products and services. The showcase will also include financial health checks performed by qualified BIBD certified Islamic financial planners. The showcase also provides a comprehensive platform for respective future homeowners to look at the exciting property and home improvement opportunities through BIBD's collaboration with the stellar partners present.
Successful applicants will also stand the chance to win prizes such as iPad minis, shopping vouchers at Supasave and Hua Ho, BIBD Hadiah Points, among others. The eighth BIBD Home Showcase will be running for a period of ten days until May the 1st, open every day from 10am to 10pm. The opening time for Fridays will be from 2pm to 10pm.