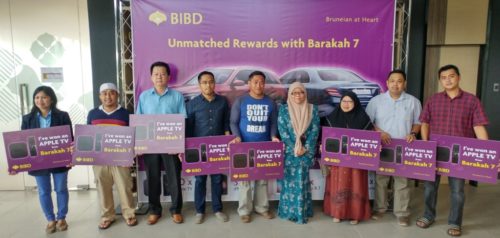 BIBD today handed over Apple TV devices, an iPhone SE and a Samsung Galaxy S7 to lucky monthly winners of its Barakah 7 and Let's Go Mobile campaigns.
The campaign winners are from the second month of Barakah 7's first cycle and third monthly Let's Go Mobile. On hand to give away the prizes at the BIBD headquarters in the capital was Hjh Masrurah Binti Hj Baki, BIBD's Head of Direct Sales from its Retail Banking Group.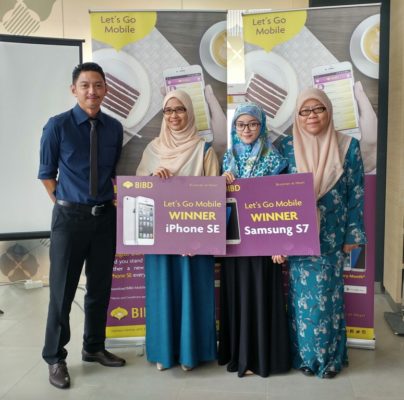 The first cycle of the BIBD Barakah 7 campaign ends on November 30th 2016, where monthly winners will also be automatically entered into the grand draw of winning a Mercedes Benz 250 GLC AMG. The Barakah 7 will then move into its second cycle with monthly prizes of Apple TV devices, along with a grand prize of a 2017 Mercedes Benz E 200 AMG. Also during both grand prize draws, thirty finalists from each cycle will also be able to bring home either an iPhone 7, iPad Pro, or iPhone SE.
On the other hand, BIBD's Let's Go Mobile campaign also presented its two winners with either an iPhone SE or Samsung Galaxy S7. The campaign, which runs until 31 December 2016, encourages BIBD customers to use the BIBD Mobile app to perform any Top Ups, Bill Payments, Bank Transfers, eTunai Purchases, Virtual Card Online Purchases and also eVouchers Purchases to be entitled into the draw.
BIBD Mobile provides the perfect solution with the combination of having speed and convenience for customers to transact on the services mentioned. No extra effort is required when purchasing physical top up cards as they can be purchased anywhere, even from the comfort of your own home, at any time. These conveniences also become extra useful in times of need, and can be done easily on the go, in a matter of minutes.