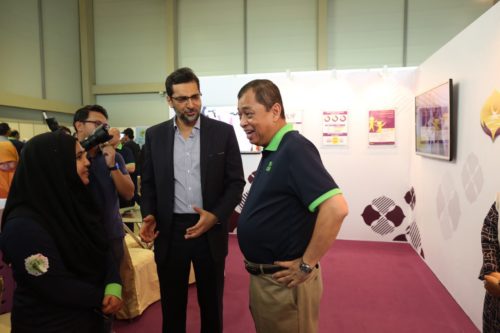 Bank Islam Brunei Darussalam (BIBD) received significant interest from job seekers attending the Brunei Job Fair 2016, an annual event organised by the Energy and Industry Department at the Prime Minister's Office (EIDPMO).
As Brunei's leading financial institution, BIBD's participation at the job fair reflects the Bank's commitment to being a caring employer, providing fulfilling career opportunities in support of EIDPMO's initiative.
Visitors at BIBD's booth were able to gain first-hand information from the Bank's Human Resources Division on the application process, career progression, available positions and industrial attachment programs.
Hajah Dayang Nora'ain binti Haji Awang Besar, Acting Head of HR and Human Capital said, "Our emphasis on talent development and excellence are the defining strength of BIBD, as we believe that the Bank play significant role in making our bank the First Choice for our customers and stakeholders.
"On the Job Fair's opening day alone, we have received more than a hundred applications, reflecting Bruneian deep interest and pride to work with their own local bank as the first choice Bank for new, emerging talents in the market."
Echoing the positive feedback from visitors at the job fair was the Minister of Energy and Industry at the Prime Minister's Office, the Honourable Pehin Dato Seri Setia (Dr) Awg. Haji Mohammad Yasmin Bin Haji Umar who commended BIBD for its participation and contribution to developing local talent.
With over 700 employees, BIBD is Brunei's largest employer in the local financial services industry. For more information on career opportunities at BIBD, please visit http://www.bibd.com.bn/careers/