BIBD today handed over lucky draw prizes to four of its campaigns, the Barakah 7, Let's Go Mobile, Top Up Tah Lagi, and BIBD Deals. Winners brought home prizes ranging from two tickets to Melbourne, and Bali, Apple products such as the Apple TV devices, an iPhone 7, iPad Pro, iPhone SE, and a Samsung Galaxy S7.

On hand to give away the prizes at the BIBD headquarters in the capital was Siti Rafeah bti Hj Jakir, BIBD's Head of Card Products from its Retail Banking Group, and Hj Samsul Bahri bin POKLUDP Hj Jaya, BIBD's General Manager from its Corporate Banking Group.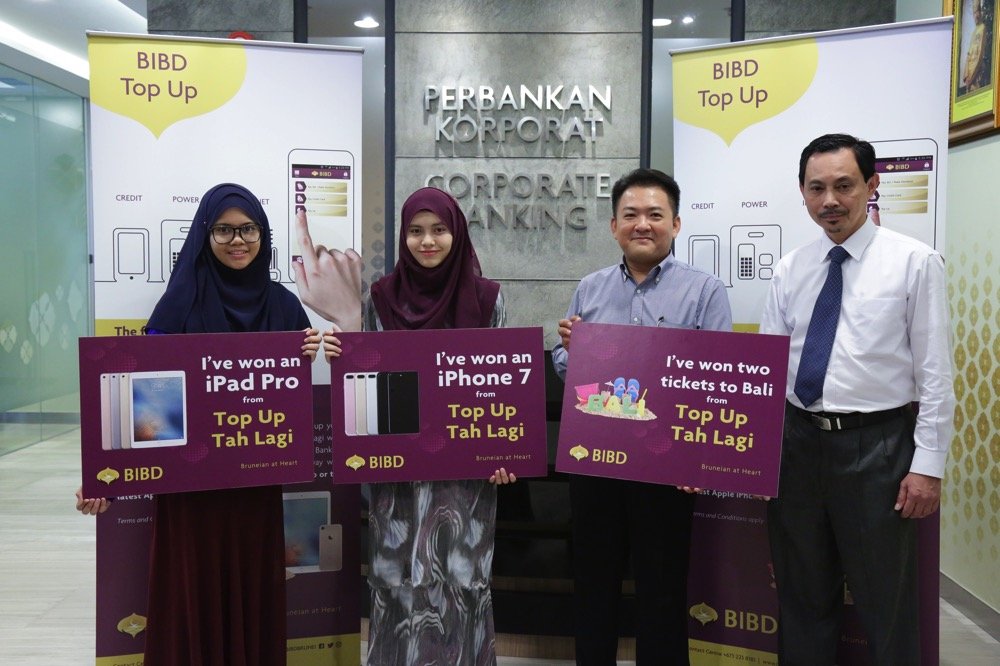 The first cycle of the BIBD Barakah 7 campaign ended recently on November 30th 2016, where monthly winners were automatically entered into the grand draw of winning a Mercedes Benz 250 GLC AMG.
The Barakah 7 will then move into its second cycle with monthly prizes of Apple TV devices, along with a grand prize of a 2017 Mercedes Benz E 200 AMG. Also during both grand prize draws, thirty finalists from each cycle will also be able to bring home either an iPhone 7, iPad Pro, or iPhone SE.
On the other hand, BIBD's Let's Go Mobile campaign also presented its two winners with either an iPhone SE or Samsung Galaxy S7. The campaign, which ran until 30 November 2016, encourages BIBD customers to use the BIBD Mobile app to perform any Top Ups, Bill Payments, Bank Transfers, eTunai Purchases, Virtual Card Online Purchases and also eVouchers Purchases to be entitled into the draw.
The BIBD 'Top Up Tah Lagi' campaign, another monthly promotion, will run until the end of December, where winners will bring home either an Apple iPhone7 128GB, Apple iPad Pro 32GB or return air tickets to Bali for two.
BIBD customers, including companies, are automatically entered into the BIBD 'Top Up Tah Lagi' campaign when they top-up their DES, DST or Progresif credits using BIBD's convenient digital platforms such as BIBD Online, BIBD Mobile, and Corporate Internet Banking (CIB).