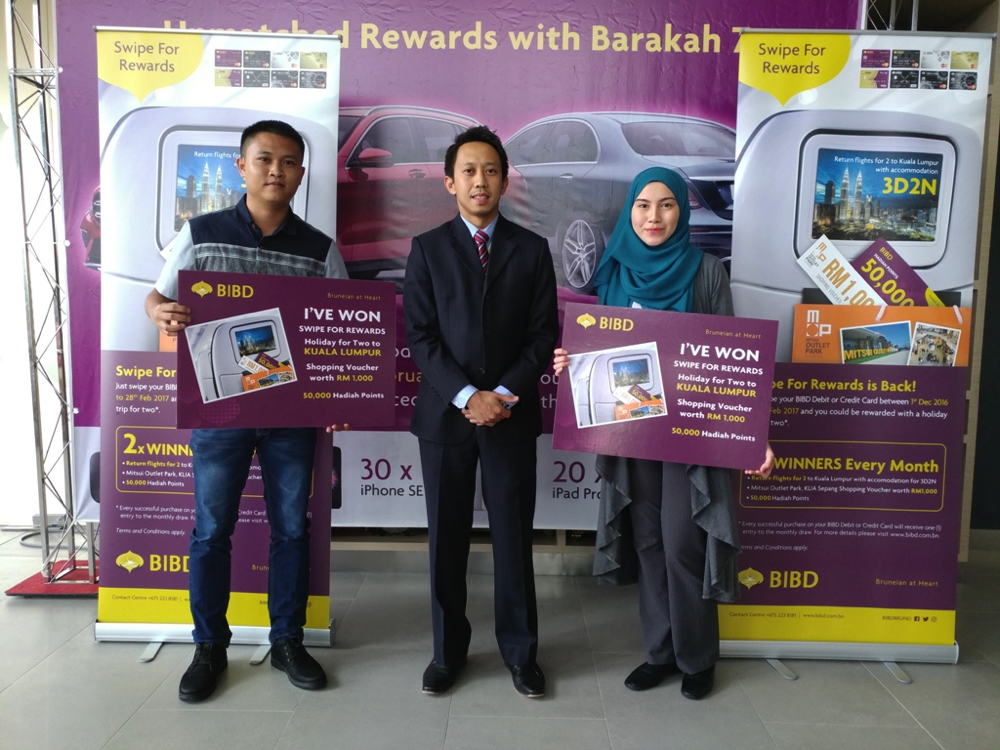 BIBD today handed over ten lucky draw prizes to its first monthly Barakah Rewards 7 winners, which is now in its second cycle. At the same time, BIBD also handed over two travel packages for two people each, consisting of two return air tickets to Kuala Lumpur with accommodation for three days and two nights, a RM1,000 Shopping Voucher at Mitsui Outlet Park, KLIA, Sepang, along with 50,000 Hadiah Points.
On hand to give away the prizes at the BIBD head office in the capital was Wan Hefnie Hj Hamidon, BIBD's Head of Financing Products, from its Retail Banking Group.
The Barakah Rewards 7's second cycle began on the 1st of December 2016 and will finish at the end of February, with monthly prizes of Apple TV devices. At the end of the second cycle, BIBD customers will be able to participate in a lucky draw a grand prize of a 2017 Mercedes Benz E 200 AMG along with other grand prizes such as an iPhone 7, iPad Pro, or iPhone SE.
BIBD customers are automatically entered into the Barakah Rewards 7 campaign when they assign their salary to BIBD; apply for any of BIBD's financing, term deposits, credit cards, or sign up for Perdana.
On the other hand, the BIBD Swipe For Rewards campaign is open to all BIBD Card holders (Debit, Credit and vCard). Every successful purchase made on any BIBD cards will automatically register the BIBD card owner with an entry into a monthly draw for two winners; hence more purchases will entitle the card owner to more entries.