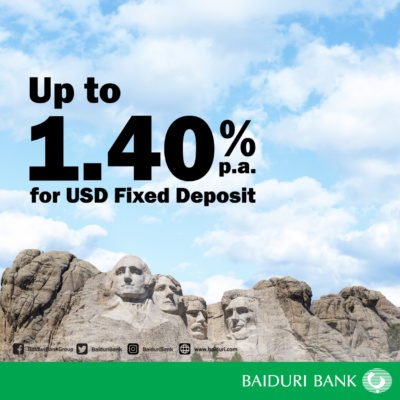 In providing a variety of investment options and encourage a diversified portfolio for its customers, Baiduri Bank recently launched the USD Fixed Deposit Promotion. The promotion begins today and will run until the 30 December 2017.
During the promotional period, customers who sign up for a USD Fixed Deposit enjoy an attractive interest rate of up to 1.40% per annum. Additionally, the USD Fixed Deposit offers flexibility where customers can choose tenures of 1, 3, 6, 9 or 12 months depending on their requirements.
In order to take advantage of this offer, customers, be it individuals or companies, simply need to open a USD Fixed Deposit account and place fresh funds of a minimum of USD5000.
Commenting on the offer, Mr. Peng Eng Soon, Head of Wealth Management, Baiduri Bank, said, "This offer not only comes with an attractive interest rate, but also comes at quite an opportune time for clients who have surplus of US Dollars, or wish to take advantage of the current market trends with the US Dollar exchange rate. We urge those interested to speak to our financial planners today."
Baiduri Bank offers an array of financial products and investment options to suit the needs and lifestyle of their clients. On top of that, Baiduri also regularly hosts investment seminars featuring experts and financial analysts from the region to educate their clients on topics from investment strategies to market outlook. Baiduri has a growing team of specially trained financial planners, who are available at all Baiduri Bank branches to provide financial consultation, conduct gap analysis, risk profile analysis and more, in order to determine which investment products are best for clients.
Full details of the offer and more information on other products and services can be found on Baiduri Bank's website on www.baiduri.com.bn. The public can also call the Baiduri Bank Customer Helpline at 244 9666. For instant alerts on our promotions and offers, follow Baiduri Bank Group on Facebook or @baiduribank on Instagram and Twitter.