His Royal Highness, The Prince of Wales, and Her Royal Highness, The Duchess of Cornwall, enjoyed a short visit to Brunei on Thursday 2 November 2017.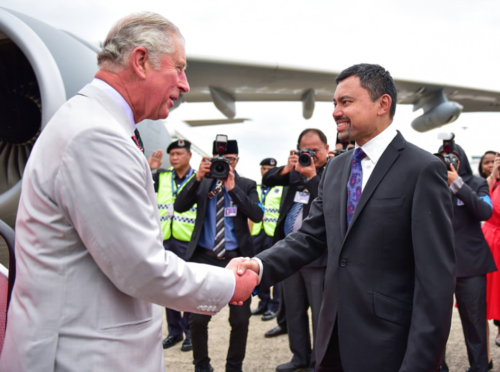 Their Royal Highnesses were welcomed at Brunei International Airport by His Royal Highness Prince Haji al-Muhtadee Billah, The Crown Prince, together with Her Royal Highness Paduka Seri Pengiran Anak Isteri Pengiran Anak Sarah.   The British Royalty were then introduced to Senior Ministers and other members of the Brunei government before passing an Honour Guard provided by the Royal Brunei Armed Forces.
The British High Commissioner to Brunei Darussalam, His Excellency Richard Lindsay, his wife Mrs Xanthe Lindsay and senior staff members from the British High Commission were also present to greet Their Royal Highnesses.
Their Royal Highnesses travelled to the Istana Nurul Iman where they were welcomed by His Majesty The Sultan and Yang Di-Pertuan of Brunei Darussalam, and by Her Majesty Duli Raja Isteri Pengiran Anak Hajah Saleha.
His Royal Highness The Prince of Wales had a private audience with HM The Sultan, while The Duchess of Cornwall had a separate audience with The Raja Isteri.   This was followed by a High Tea with other members of Brunei's Royal family.
The British High Commissioner, HE Richard Lindsay said:
"This was a short, but meaningful visit.  His Royal Highness congratulated His Majesty on His Golden Jubilee and they had an excellent private discussion. The warmth of the personal relationship between the Prince of Wales and His Majesty; and between The Duchess of Cornwall and The Raja Isteri was very evident throughout."
He went on to say "this visit reflects the nature of the strong and enduring friendship and partnership between our two countries".
Following the tea, Their Royal Highnesses departed Brunei for Kualur Lumpur for their first visit to Malaysia, and the next stop on their regional Commonwealth tour.