TELEKOM Brunei Berhad (TelBru) earlier this week further strengthened its foundation for Local Business Development (LBD) growth within its scope of services reflecting in the company's vendor policy that aims to see more Bruneian engagement within the country's field of telecommunications.
In a series of signing ceremonies that took place over the course of two days at the company's headquarters in the capital, TelBru formally inked agreements with several identified local contractors responsible for phone and broadband connections.
Signing on behalf of the company was David Holliday, CEO of TelBru, who expressed his appreciation for the cooperation rendered by these contractors, emphasizing that these partnerships are important for the customers who expect professional services. He also highlighted that teamwork will be necessary to ensure Bruneians countrywide reap the benefits of TelBru's services.
The agreements stipulate priorities for local recruitment within their respective organisations under Key Performance Indicators (KPI's) specified by the company as part of their contractual requirement.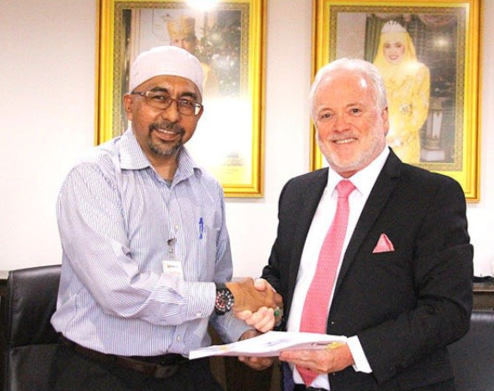 The measures are to ensure that TelBru continues its intensive programme to bring high speed fibre broadband to citizens and businesses in Brunei. This move aims to assure that those contracted by the company provides equal employment opportunities to qualified Bruneians regardless of rank or designation as part of TelBru's responsibility towards the development of not just human resource but also local communities throughout the country.
The development and growth of these local contractors are further supported by continuous training that will be provided by TelBru throughout the year as further assurance that they are provided with the skills to guarantee success in their partnership with TelBru as well as shortening the connectivity waiting time for TelBru's customers.
Of the total number of contractors, eight were initially serving as sub-contractors and the decision to elevate their classification is to guarantee that they, too, are given equal access to TelBru related projects.
This consideration places these smaller companies on equal footing with their counterparts, further strengthened by uniform contractor rates predetermined by TelBru set in place to generate healthy competition.
By standardizing these rates, the contractors will need to hone in on their service delivery to better ensure that quality remains consistent should they wish to remain part of the company's connectivity expansion as TelBru continues its rollout of fibre connectivity nationwide. The contract will run for the next 12 months with the possibility of two yearly renewals if they are able to adhere to the company's requirements.
At the end of the first year, Brunei can expect more local faces equipped with suitable training and knowledge to service broadband connectivity.