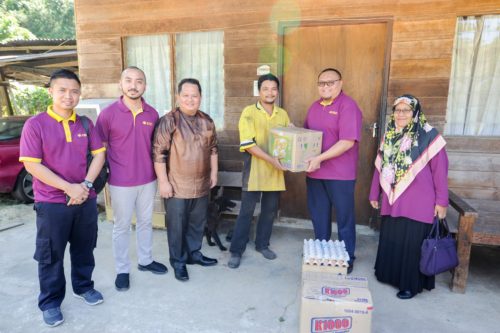 BIBD yesterday strengthened its collaboration with key government ministries in efforts to support Brunei Darussalam's Wawasan 2035 to develop well- educated and highly-skilled individuals with a Temburong educational trip to schools in Sekolah Rendah Selapon, Sekolah Rendah Selangan and Sekolah Arab Temburong.
The existing collaborations are focused to accomplish the national strategy to prepare Brunei's youth for an increasingly competitive and knowledge-based future. BIBD also took the opportunity to present educational materials to all three schools to supplement the development of their education.
The BIBD travelling party, which included senior management personnel, members of its Corporate Social Responsibility team along with BIBD ALAF volunteers, also extended their visit by engaging the local community to identify other opportunities for improvement to support the development and educational needs of its community.
The visit is also part of BIBD's effort to further strengthen its relationships with students from the BIBD ALAF Programme, another key collaboration with the Bruneian government, specifically the education arms of the Ministry of Education (MoE) and the Ministry of Religious Affairs (MoRA). Concurrently, the BIBD party also took time to visit BIBD ALAF programme students, their families at their homes along with engagements with ALAF teachers from MoE and MoRa. This holistic approach allows BIBD to ensure the educational progress of ALAF students.
Hj Mohammad Yusri bin Hj Wahsalfelah, BIBD Head of Government Relations and Special Projects, commented, "It is essential that we support the development of education for our youth as future leaders to create a robust economy towards a sustainable society. This direct engagement approach allows us to better understand their living conditions and extend the right support. "On behalf of BIBD, I would like to take this opportunity to thank our partners from the public and private sector on our continued collaborations to further fortify the future of Brunei Darussalam".
About The ALAF Programme
The BIBD ALAF (Advocating Life-Long Learning for An Aspiring Future) programme currently supports the development of more than one hundred and seventy students. The programme is kept sustainable by collaborated efforts from both public and private efforts which include BIBD's own charity expeditions for ALAF, generous contributions from corporate agencies as well as members of the general public.
How can the public support the ALAF Programme
Members of the public wishing to contribute into the BIBD ALAF Programme fund may do so with a minimum donation of B$1.01 into the BIBD ALAF account at 1018181811 via BIBD channels such as the BIBD Online website, BIBD Mobile app, BIBD ATM and CDMs, and BIBD branch counters. The public can also set up a BIBD Standing Instruction to ensure a monthly donation into the ALAF fund. As an added option, BIBD account holders can also use their accumulated BIBD Hadiah Points for cash conversion into contributions into the ALAF fund account.