Financial fitness can be defined as having enough money to meet one's needs when it's needed, including in an emergency. This would mean living within one's means, with manageable debt and to have savings. But is this enough? What about owning a home, children's education and retirement funds? The list can become long but it is achievable, with proper financial planning.
Being financially fit requires a careful exercise in financial planning – understanding one's cash flow, defining one's objectives and goals, going through budgeting, and knowing how much to save as well as to invest. Just like starting on a physical fitness programme, the starting process for financial planning can be quite stressful and overwhelming.
To help relieve the stress of achieving financial fitness, the public can approach a personal financial planner to get a free professional financial consultation at Baiduri Bank. They can drop by any Baiduri Bank branch or set up an appointment at Baiduri Bank Wealth Management Centre by calling 226 8363 or 226 8359.
To empower customers to take this first step towards achieving financial fitness, Baiduri Bank has launched the "Stay Financially Fit" campaign. From 3 August to 31 October 2018, customers who successfully sign up for selected insurance plans offered by Baiduri Bank are treated to special welcome gifts.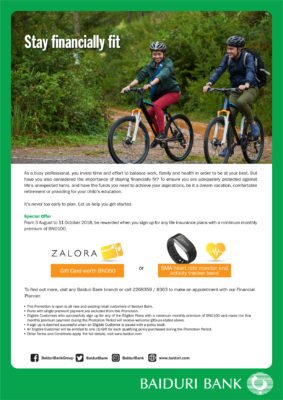 By signing up to a selected insurance plan with a monthly premium of BND100 and above, Baiduri Bank is rewarding successful customers with a choice of either an SMA heart rate monitor and activity tracker band or BND50 worth of shopping vouchers from Zalora.
Full details and terms and conditions of the promotion can be found on www.baiduri.com. For more information on other products and services offered by the Bank, please call the 24-hour Baiduri Bank Customer Helpline at 244 9666.
Baiduri Bank offers an array of financial products and investment options to suit the needs and lifestyle of their clients. Additionally, Baiduri Bank has a growing team of professionally trained financial planners, who are available at Baiduri Bank branches to provide financial consultation, conduct gap analysis, risk profile analysis and more, in order to determine which financial products and investment options are best suited for the needs and lifestyle of their clients.
To be in the know of Baiduri Bank current promotions and events, the public can also like the official Baiduri Bank Group Facebook page or follow @baiduribank on Instagram and Twitter.