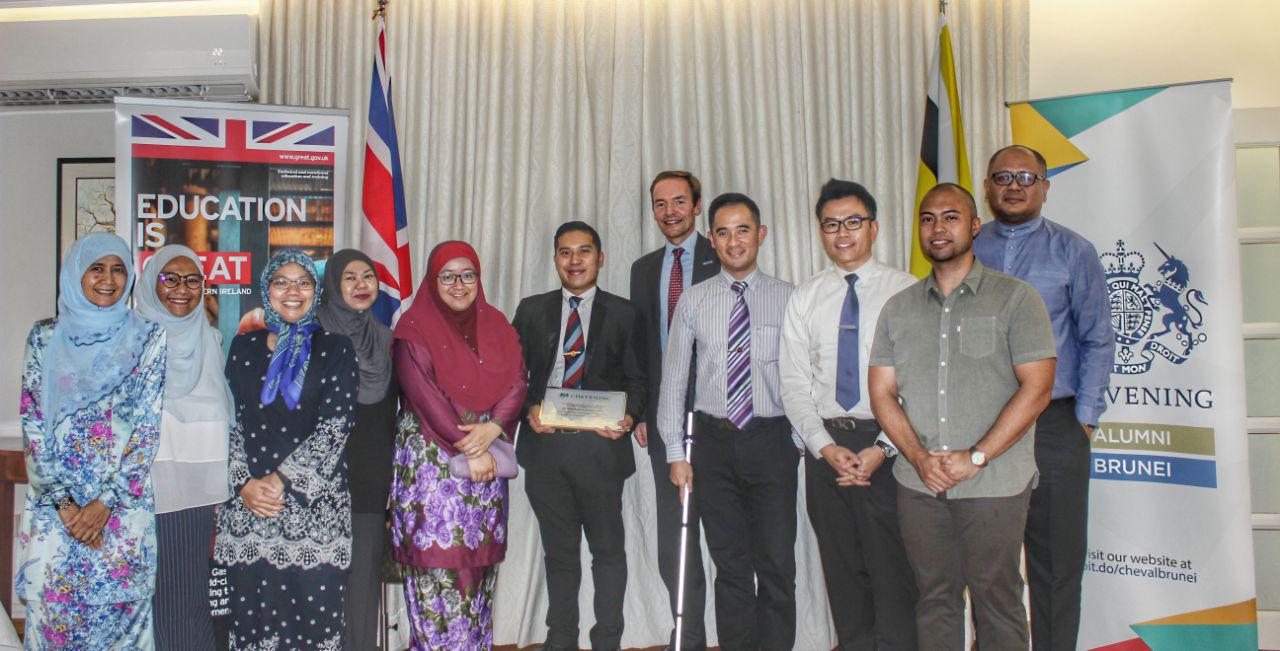 On Thursday 20 September 2018, the British High Commissioner hosted a farewell reception for Mr Abdul Azim Bin Haji Abd Kassim who has been awarded the prestigious Chevening Scholarship for the 2018–2019 and will be pursuing his postgraduate studies in the United Kingdom next month. The farewell event was held at the Residence of the British High Commissioner to Brunei Darussalam.
Mr Azim Kassim, a Research Officer in the Directorate of Defence Policy at the Ministry of Defence, will be pursuing a MA in Security, Terrorism and Insurgency at The University of Leeds, in the United Kingdom.
Mr Azim Kassim said, "No words can truly describe how much the Chevening Scholarship means to me. This is a great honour and one in which I acknowledge is far from an individual effort.
This award would not have been possible without the lessons learned from my respected mentors and colleagues; both from when I was a reporter at a local newspaper, and now with the Ministry of Defence."
Mr Azim Kassim explained, "The University was chosen based on its excellent student satisfaction levels in which it was named the Sunday Times University of the Year in 2017. It also ranked in the Top 10 Universities in the UK, according to The Times and The Sunday Times Good University Guide 2018 and in the Top 100 of the QS World University Rankings for 2019.
The course was selected because it will enhance my understanding on national, regional and global security threats. My hope is that this course will be of relevance to my role and responsibilities at the Ministry of Defence particularly to contribute towards providing reliable and holistic policy analysis to benefit my organisation and my country.
Upon my return, I will do my best to ensure that my learning and knowledge is shared, and to continue to strengthen the defence relations between Brunei Darussalam and the United Kingdom. This scholarship is also a contribution towards Vision 2035 in its pillar of achieving a highly skilled workforce.
The British High Commissioner H.E. Richard Lindsay, said: "It is a great pleasure to be able to present the 2018-19 Chevening Scholarship to Azim Kassim. This competitive scholarship is given to individuals who have proven that they have the potential to be future leaders. Azim will be one of over 2000 Chevening Scholars who receive this award for a fully-funded year of postgraduate study in the UK each year. He will also be joining a global alumni network of over 50,000 Chevening Scholars. In this country, the Brunei Chevening Youth Forum is a very active alumni group which is dedicated to sharing their expertise and discussing how to meet some of the biggest challenges facing the country. In due course, I am confident that Azim will use his experiences to make a very significant contribution back into Brunei. Many congratulations to him, and to his very supportive family and colleagues"
Mr Azim was welcomed into the Chevening family by the President of the Brunei Chevening Alumni Association YB Khairunnisa, who was a Chevening scholar herself in 2016-17, together with other alumni members. (picture attached).
The High Commissioner said that applications for the 2019/20 Chevening Scholarships were currently open to citizens and permanent residents of Brunei Darussalam. The ideal candidate would be in early to mid career, with at least 2 years' work experience and an excellent record of achievement with evidence of leadership qualities. Applicants should be committed to returning to contribute to Brunei's social and economic development by using the skills and knowledge acquired in the UK.
All those interested in applying for the 2019/2020 Chevening scholarship should visit www.chevening.org/Brunei where potential applicants can find information on how to apply, register interest to receive alerts about their application and candidate guidance, as well as to see the priority subjects for Chevening Scholarships. The deadline for applications is 6 November 2018.