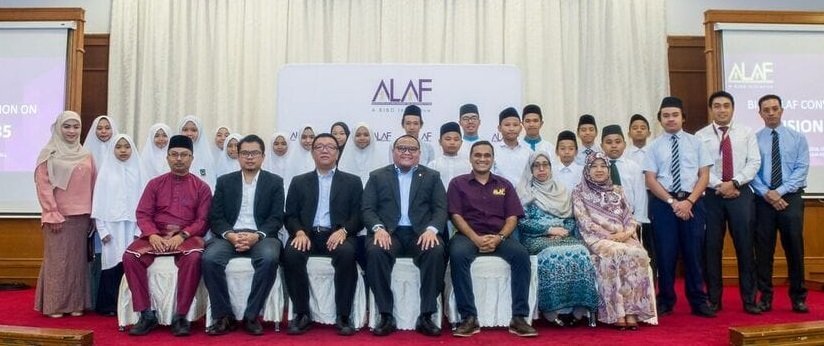 Twenty ALAF Students recently participated in the annual ALAF convention on Brunei Wawasan 2035 in topics ranging from education, economy, tourism, environment and health. At the same time, the convention also looks at developing the capabilities of the BIBD ALAF students via mind-mapping strategies on how to effectively share and express their views and ideas; ultimately encouraging them to develop and focus on their goals.
During the convention, students also shared perspectives of the current situation in Brunei, identify areas that can be improved and through their research, whilst identifying best practices implemented overseas that can be applied to Brunei.
Guest of honor at the event was Yang Mulia Haji Mohammad Yusri bin Haji Wahsalfelah, BIBD's Head of Government Relations and Special Projects who also commented, "Alhamdulillah the success of today's BIBD ALAF Convention is a result of collaborative efforts of all stakeholders including BIBD, the Ministry of Education and the Ministry of Religious Affairs along with other relevant ministries, along with stakeholders from the corporate and private sectors, embodying Brunei Darussalam's whole of nation approach."
"Today's convention is part of the extra-curricular activities organised by the BIBD ALAF programme for its students to become more innovative and creative in their contribution to lead change. These activities aim to better prepare Brunei's youth to be part a competitive workforce and also leaders in the future, in line with Brunei Wawasan 2035 to be recognized for the accomplishment of its educated and highly skilled people.
"Coincidentally, we themed this year's convention around Brunei Wawasan 2035 to ensure that not only do the students of the BIBD ALAF programme fully recognize and accomplishment of those strategies, especially from a young age."
About the ALAF Programme
The BIBD ALAF (Advocating Life-Long Learning for An Aspiring Future) programme currently supports the development of more than one hundred and seventy students. The programme is kept sustainable by collaborated efforts from both public and private efforts which include BIBD's own charity expeditions for ALAF, generous contributions from corporate agencies as well as the general public.
How can the public support the ALAF Programme
Members of the public wishing to contribute into the BIBD ALAF Programme fund may do so with a minimum donation of B$1.01 into the BIBD ALAF account at 1018181811 via BIBD channels such as the BIBD Online website, BIBD Mobile app, BIBD ATM and CDMs, and BIBD branch counters. The public can also set up a BIBD Standing Instruction to ensure a monthly donation into the ALAF fund. As an added option, BIBD account holders can also use their accumulated BIBD Hadiah Points for cash conversion into contributions into the ALAF fund account.