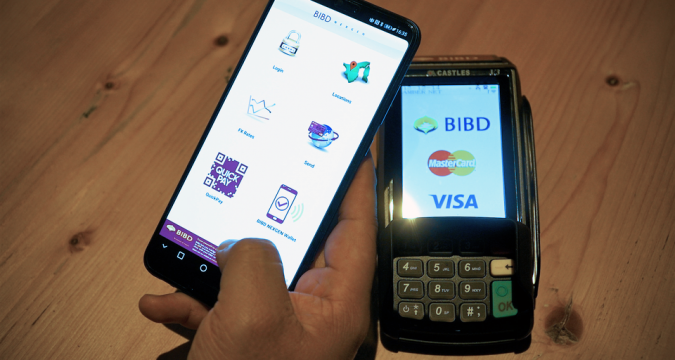 BIBD has introduced BIBD Wave, Brunei's first near-field communication (NFC) payment service via the BIBD NEXGEN Mobile app for NFCenabled Android devices. This will enable users to pay at card terminals by simply tapping their phones.
Using BIBD Wave, a user may store their debit or virtual card information in a mobile wallet; once this is done, users can then make payments via their mobile phones at any NFC-enabled card terminal, both locally and abroad, without having to physically use their cards. Using this new system, customers would only have to tap or hold their NFC-enabled smartphones and input their PIN when prompted, in order to complete the transaction.
Head of Retail Banking, Hjh Nurul Akmar binti Hj Mohd Jaafar said "We want more consumers and businesses to make digital transactions. This is part of BIBD's continuous efforts to be Brunei's leading digital payment solution provider, bringing the latest innovations to the public. BIBD Wave provides even more convenience to both customers and merchants. With BIBD Wave, you can leave your wallet behind and just use your phone to buy your groceries or pay for a meal."
NFC-functionality, which is typically enabled through a secure element chip, nowadays comes as standard in newer Android smartphones. Approximately 65% of BIBD's mobile users are on the Android platform, with the remaining on Apple's iOS. With Apple's newer iPhones also NFC capable, BIBD are hoping to engage Apple to enable NFC payments via Apple Pay or a similar option for iPhone users in Brunei Darussalam.
BIBD, in leading this digital initiative, will also be exploring tie-ins with other wallet and payment solutions in the future.
BIBD has been piloting this program for the past 3 months and are confident that this feature is now ready to be widely used by our customers. There are currently more than 1,500 NFC-enabled card terminals in Brunei and this number is expected to grow further. Head of BIBD's Merchant Services, Law Siew Vui said that merchants can request to replace their existing terminals to an NFC-enabled terminal at no extra cost.
The launch is part of BIBD's efforts to support de-cashing of the economy with seamless transactions, having already introduced digital conveniences such as BIBD QuickPay, BIBD vCard as well as other contactless payment methods under the BIBD NEXGEN platform.
The BIBD NEXGEN platform showcases the bank's intent to transform traditional banking to the fintech age, while at the same time promoting strategic partnerships among different industries and going beyond Brunei's shores with regional and international partnerships.