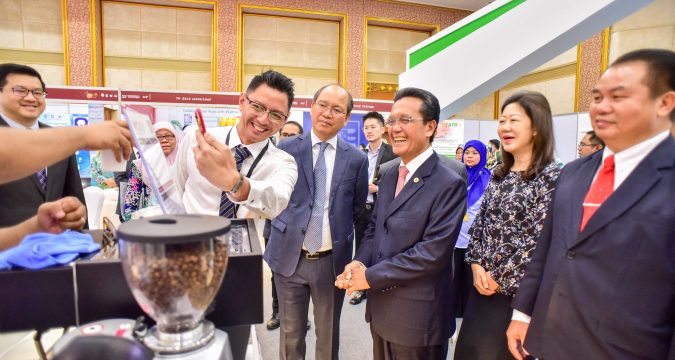 In a bid to further drive Brunei's aspiration of becoming a highlydeveloped and cashless economy, as well as support the growth of MSMEs in Brunei, Bank Islam Brunei Darussalam (BIBD) is showcasing its hi-tech digital
payment solutions and capabilities via the BIBD NEXGEN at the ongoing 23rd Consumer Fair.
The bank's continuous initiatives in promoting cashless payments at consumer events is part of its efforts to support de-cashing of the economy with seamless transactions, already made possible through its suite of BIBD NEXGEN solutions which include the QuickPay and BIBD vCard as well as other contactless payment methods.
Such efforts and initiatives are implemented in support of the 'Digital Payment Roadmap for Brunei Darussalam' which was launched late last year by Autoriti Monetari Brunei Darussalam (AMBD), the country's financial industry regulator and central bank.
The five-year roadmap sets out key strategies towards the creation of a Digital Payment Nation which include greater adoption of digital payment solutions to promote market interoperability and encourage fair market competition as well as enhancing public awareness and education geared towards building digital trust and market confidence towards the acceptance of digital payments.
"We are not just providing this facility to local MSMEs, but also to participating vendors and businesses from overseas to help them offer easy and fast convenient payment methods to visitors," BIBD Head of Retail Banking Group, Hajah Nurul Akmar binti Haji Jaafar, said, of the bank's drive in promoting cashless payments at the ongoing Consumer Fair.
Visitors of the expo are invited and encouraged to use and experience all the cashless payment methods powered by BIBD NEXGEN.
"For customers and visitors, we just want them to enjoy and try out our digital and cashless payment platforms and solutions as it will provide them with a convenient mode of payment. Cashless payments also give more security as shoppers can carry less cash and this eliminates a lot of risks associated with carrying cash," Hajah Nurul said.
Some of the digital and cashless payment solutions that are available at the Consumer Fair include BIBD QuickPay, contactless cards, Progresif Pay and its latest cashless payment initiative the BIBD Wave.