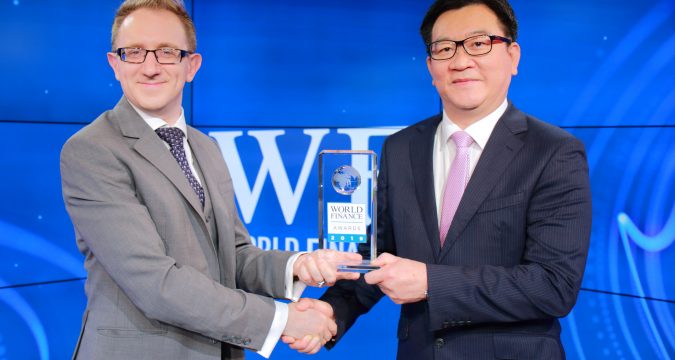 Baiduri Bank Group has been recognised by World Finance as The Best Banking Group for Brunei 2019. This marks the eleventh consecutive year Baiduri has received this award which was presented to Ti Eng Hui, CEO of Baiduri Bank on Friday, 5 July 2019, at the London Stock Exchange in London, the financial centre and capital of the United Kingdom.
Speaking on this latest recognition, Ti Eng Hui said, "This is a tremendous achievement for the Baiduri Bank Group. To receive this recognition from World Finance for eleven consecutive years is testament to our strong and proven business model."
He further added, "I would like to thank our customers, business partners and associates for the trust and support they have given us over the years making us the award-winning banking group that we are today."
During the award presentation in London, Ti Eng Hui was interviewed by Paul Richardson, World News Media producer, on the progresses made by the Group over the last year where he discussed topics including the growth of the banking group over the years and his direction as the new Chief Executive Officer of the bank group.
The interview will be made available for public viewing on Baiduri Bank's website www.baiduri.com or the World Finance website www.worldfinance.com.
World Finance is a quarterly print and online magazine providing comprehensive coverage and analysis of the financial industry, international business and the global economy. The magazine targets an audience of finance professionals, and corporate and private investors, but its lucid voice makes it intelligible and essential reading for anybody who wants to understand the machinations of finance in the 21st century.
Since 2007, World Finance has been celebrating achievement, innovation and brilliance in their annual awards. With a judging panel boasting over 230 years of financial and business journalism, supported by a research team that works round the clock, World Finance ensures the award winners are the most deserving in their sector.