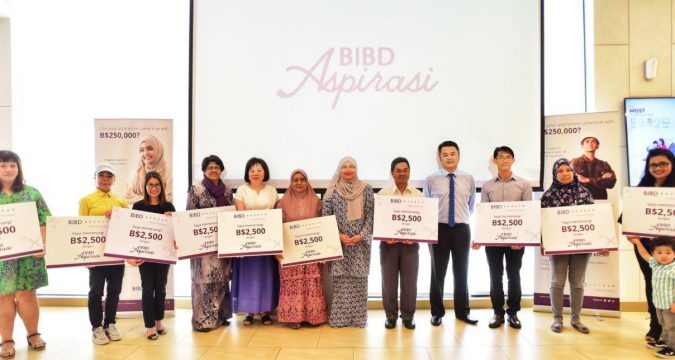 Bank Islam Brunei Darussalam (BIBD) yesterday handed out a total of $25,000 to 10 more monthly winners of the BIBD Aspirasi Rewards Campaign as the draw for the grand prize of $250,000 nears.
The latest monthly draw brought the total number of winners to 86 with a total of $350,000 in cash prizes given away since the launch of the programme.
The reward programme's latest draw saw the July monthly winners rewarded for their patience in the programme and bring home $2,500 each.
Held at the BIBD Headquarters in the capital, the prizes were handed over by BIBD's Head of Product Management, Retail Banking Group, Andy Yong.
The BIBD Aspirasi Reward Program is unique as it does not have any closing date and customers will still be eligible for any of the prizes which also include an annual grand prize of a life-changing B$250,000 as long as they maintain their participation by saving in BIBD Aspirasi.
On top of monthly winnings, customers also stand a chance to win quarterly prizes of B$25,000.
The date for the draw of these winners will be announced via official BIBD channels, and customers who have kept their BIBD Aspirasi accounts open for a minimum of ninety (90) days up to the draw will be eligible for both monthly and quarterly prizes.
The next round of draw for the monthly winners will be in August.
Those who are subscribed since the launch of the programme until June 30, 2019, still have the opportunity to win monthly, quarterly and grand prizes.
As BIBD looks to continue the Aspirasi Rewards programme, subscribers are encouraged to keep their savings in BIBD Aspirasi to be eligible for prize draws in the next edition of BIBD Aspirasi.
With the support of the bank's customers and Bruneians in general, the programme continues to be successful and beneficial.
This reflects that subscribers of this programme understand its importance and that is both financially rewarding and is helping Bruneians inculcate the savings culture.
BIBD at the same time is delighted to have been able to initiate a programme that supports the national agenda of creating a financially literate society in Brunei.
About the BIBD Aspirasi Reward Programme
The BIBD Aspirasi Reward Programme is a unique investment programme that allows customers to earn attractive dividends and have a chance to be winners in the monthly, quarterly and grand prize draw. Whilst the mechanic encourages customers to keep their funds for longer term savings, with an incentive of a draw, BIBD hopes that this programme will help customers nurture the discipline of savings and balancing their financial management by prioritising their needs against their wants.
BIBD customers will also be part of the BIBD Aspirasi Reward Programme, which has monthly and quarterly prizes for more than 100 more winners, including the grand prize of B$250,000, for as long as they keep their funds in BIBD Aspirasi for a minimum of 90 days prior to each draw date. The programme increases the chances of winning where every B$50 deposit saved shall be entitled to one entry for the Reward Program.
About BIBD Aspirasi
BIBD Aspirasi was introduced to support national and AMBD's objectives to promote a savings culture and prudent money management among the people of Brunei Darussalam. BIBD Aspirasi is aimed at promoting better financial management habits and decision-making skills in line with His Majesty the Sultan and Yang Di-Pertuan of Brunei Darussalam's titah calling for prudence in spending and frugality as they contribute to the country's stability and prosperity as well as economic survival and saving through financial planning for future needs.
This was further echoed by His Royal Highness The Crown Prince during his speech at the inaugural AMBD Day on raising and developing people's knowledge and understanding of financial matters towards creating a financially literate society.
BIBD Aspirasi is also part of BIBD's commitment to not only support the aspirations of its customers, but also add value to the social and economic well-being of the country as it offers a rewarding opportunity for the public to invest their savings whilst participating in life-changing reward programme.
The reward programme encourages BIBD customers to save for their financial future by effectively managing their savings, especially via the convenience of the BIBD NEXGEN Mobile and online platform.