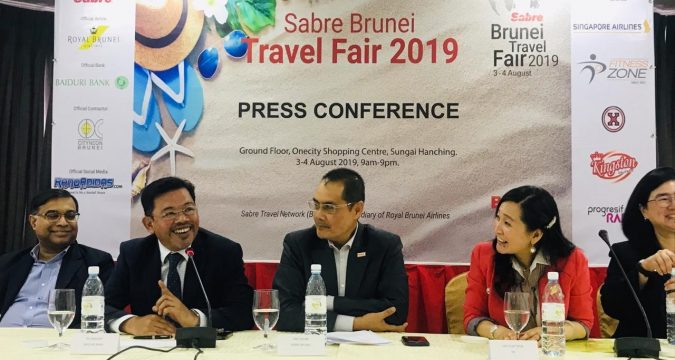 Baiduri Bank has signed on to be the official bank for the annual travel event, Sabre Brunei Travel Fair 2019. It will be held over 2 days this weekend from 3 to 4 August 2019 at OneCity Shopping Centre in Sungai Hanching.
"We are honoured to be collaborating with Sabre, a leading travel technology company again for this highly anticipated event. As the official bank for Brunei Travel Fair for 15 wonderful years, our key objective every year is to provide seamless and secure payment solutions for visitors at the Brunei Travel Fair. For their convenience, every booth has been set up with our latest POS (Point of Sale) card terminals which allow contactless payments and Baiduri Bank offers the widest card brand acceptance and supports transactions from major card brands – Visa, MasterCard, American Express and UnionPay.", commented Pg Azaleen Pg Dato Hj Mustapha, DCEO and Head of Retail Banking & Branch Network, Baiduri Bank.
A wide selection of air fares and holidays will be available at the travel fair and Baiduri Bank will be offering their cardholders exclusive benefits.
Baiduri cardholders who spend BND300 or more using their Baiduri cards at the event are entitled to a sure-win lucky dip, and a guaranteed gift of 500 Royal Skies miles. There will also be an early bird offer where the first 50 cardholders who spend BND800 on each day in a single receipt with their Baiduri credit cards will be entitled to an American Tourister Troy cabin luggage.
Additionally, every purchase with Baiduri cards at the Sabre Brunei Travel Fair will receive triple chances in the Sabre Lucky Draw and one chance in the Travel & Win Lucky Draw. Prizes for the Travel & Win Lucky Draw include 25,000 Royal Skies miles and a Samsonite cabin luggage.
For those who are planning to sign up for a Baiduri credit card, sign up for one at the Brunei Travel Fair to enjoy a 3-year annual fee waiver.
Full details and terms and conditions of the promotion can be found on www.baiduri.com on the 'Baiduri Deals' mobile app. For more information on other products and services offered by the Bank, please call the 24-hour Baiduri Bank Customer Helpline at 244 9666.