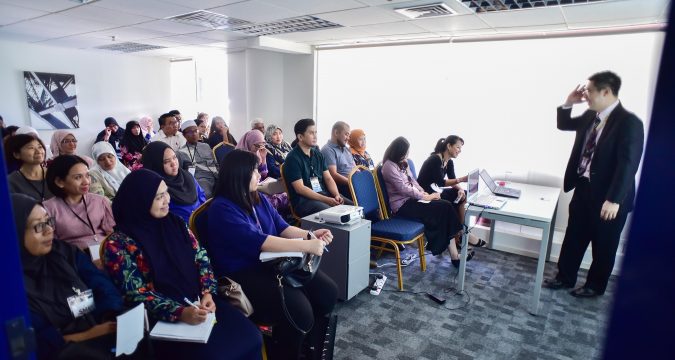 Bank Islam Brunei Darussalam (BIBD) in collaboration with Regus PGGMB Brunei recently held a talk and sharing session for their MSME clients.
The session, held on November 13, highlighted on the relevance of IT and importance of online banking services to the business community which was aligned with the Workspace Revolution presentation by Regus.
The objective of the event was to share and showcase the latest development and features of BIBD's products and services.
The presentation and demo were delivered by Andy Lau, Product Development Manager from BIBD Corporate.
In his opening remarks, Pg Sanusi bin Pg Hj Ismail, Senior Manager at Corporate Banking Group, BIBD, said: "As this is a yearly event, we are bringing different topics every year. This year we are emphasising on FinTech as the Bank realises the importance of IT to every industry whether they are primary or tertiary. In January 2018, BIBD Corporate Banking Group had introduced a more robust online Banking platform. BIBD BizNet is a virtual Banking that manage business finances in a secure real time manner anytime, anywhere in the world. The Bank's ultimate goal is always to provide a more user friendly yet secured platform to the market".

The event signified BIBD's commitment to the growth of SMEs in the country  in supporting the Vision 2035 as Partners in Progress as well as facilitate newer businesses and startups to gain access to its wide range of facilities.
During the talk, BIBD shared how its corporate products and services were designed to ease businesses in maintaining and managing their business costs and finances through a business account that will also facilitate towards their business transactional needs.
Meanwhile Regus was represented by its Area Manager, Michelle de la Harpe-Germani, who shared a detailed presentation on the Workspace Revolution and showcased their products and services around the centre.
Regus has made it a mission to help businesses create the best working environments for their people. This has in turn led to the creation of a global network of workspaces that enable people to work more efficiently.