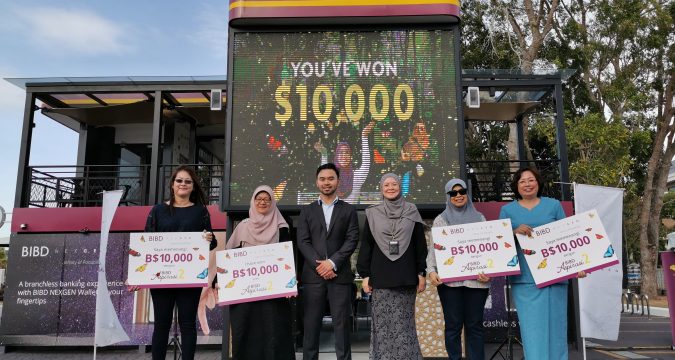 Bank Islam Brunei Darussalam (BIBD) today handed over a total of $50,000 to five winners of the first quarterly draw of the BIBD Aspirasi 2 Reward Campaign.
Each quarterly winner won $10,000 while a total of 35 winners also brought home $1,000 each as part of the campaign's third monthly draw.
Winners were chosen from customers who had subscribed to BIBD Aspirasi 2, with a minimum holding period of 90 days.
Handing over the prizes to the quarterly winners during an event held at BIBD Connects TMJE in the capital was Deputy Managing Director, Hjh Noraini binti Haji Sulaiman.
BIBD's Acting Head of Retail Banking, Irwan bin Lamit said: "Alhamdulillah, first of all, the sustainability and success of this programme stems from the support and uptake from our customers. The more people participate, the more they will save.
This means our winners understood the importance of this programme that while it is rewarding, it also inculcates the savings culture among Bruneians."
"So we are very proud to have been able to introduce a programme that supports the national agenda of creating a financially literate society.
He added: "It's never too late to begin saving to realise your aspirations as the programme only requires customers to start their savings with as low as B$250 and to keep their investment in BIBD Aspirasi for at least ninety days prior to each draw
date."
Aspirasi, another one of its first introduced to the nation – has made the discipline of savings easier, more accessible and more convenient for its customers as subscriptions and redemptions can be made directly through the BIBD mobile application, BIBD NEXGEN Wallet.
This has helped customers create a savings discipline that BIBD hopes will become a habit and will elevate the nation's savings culture to a level that will be able to help them sustain their needs at every stage of their lives.