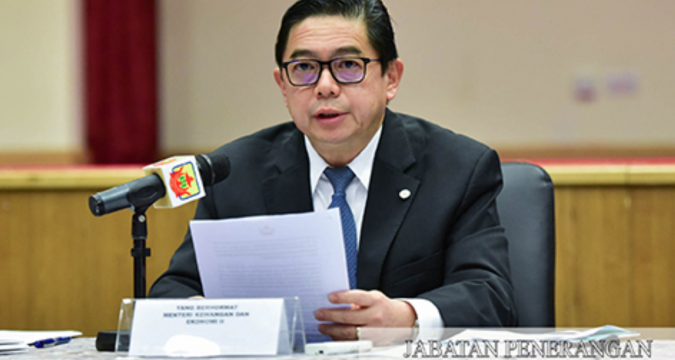 As with the majority of the world, Brunei Darussalam's economic situation is currently affected by the COVID-19 outbreak. In this regard, the Ministry of Finance and Economy (MOFE) in collaboration with the Manpower Planning and Employment Council (MPEC), the Prime Minister's Department, Darussalam Enterprise (DARe) has undertaken a further assessment of the business and labor market situation.
As a result of these consultations and evaluations, the MOFE is pleased to announce that His Highness His Majesty the Sultan and His Majesty the Brunei Darussalam have given their consent to implement additional measures that give priority to the following three objectives;
The first objective is to support the private sector affected by the COVID-19 outbreak;
The second objective is to continue to generate employment;
The third objective is to maintain job security to protect the well-being of local children, especially in the private sector of Brunei Darussalam.
FIRST; Support life-long learning initiatives especially upskilling and reskilling for Bruneians to support private sector growth.
Currently, as business activities are affected by the COVID-19 outbreak, companies are being invited to take up training to improve skills including upskilling or reskilling of local workers which will be delivered online as well as hands on.
These include partnering with information technology (IT) companies to provide programs such as programming, data analytics and so on that will assist the country towards Industrial Revolution 4.0; Provide training such as reskilling and upskilling to local Tour Guides registered with the Ministry of Primary Resources and Tourism; and Provide training for those interested in the food and beverages sector.
Those interested in accessing this facility can apply to the MPEC Permanent Secretariat, Prime Minister's Department by email: [email protected].
At the same time, Darussalam Enterprise (DARe) has increased the provision of DARe fully sponsored Industry Business Academy online training starting today, Saturday, March 28th, 2020 through Coursera, accessible through the website www.dare.gov.bn.
Coursera is a platform run by international business experts who also handle courses at top Universities around the world. The platform provides more than 300 courses related to business affairs such as marketing and sales, finance and accounting, innovation and design as well as data analytics.
SECOND; Help for Small and Medium Enterprises (MSMEs) to join the e-commerce platform for more effective business matching.
The e-commerce platform will be open to merchants beginning Wednesday, April 1st, 2020, which can be accessed through the websites www.dare.gov.bn and www.aiti.gov.bn. The platform is intended to provide an alternative for merchants to market their goods online. This includes online payments and logistic providers for the shipment of goods.
Traders can be reached by emailing [email protected] or by telephone at 8363442 (during business hours) for more information.
THIRD; Providing Co-Matching Grant, for e-Commerce services and logistics services.
The Darussalam Enterprise will also increase the amount of the grant to further expand the Co-Matching Grant initiative. This is to help traders improve and prepare for current and future situations.
FOURTH; Provide a 25 percent payroll subsidy to local workers at the Small and Medium Enterprises (MSMEs) with 100 employees and below, for 3 months.
This subsidy is intended to help ease the burden on the Small and Medium Enterprises especially for local workers who receive a monthly salary of BND1,500 and below; and contribute to the Employees Trust (TAP). In line with the government's objective of providing assistance to those who are in dire need of assistance, it is proposed that cooperation be made with companies to complete the completed application form by emailing [email protected] The form can be downloaded through the website www.tap.com.bn beginning April 1st, 2020.
FIFTH; Provision of bench rent for Guests, Markets and Stalls provided by the Ministry of Home Affairs for a period of six (6) months. Starting March 2020, the rent for the Guests, Markets and Stalls provided by the Ministry of Home Affairs is set to aim to help ease the financial burden on the relevant businessmen.
SIXTH; Expanding the coverage of the i-Ready Approval Program to include Diploma Level 5 (HND or Advanced Diploma) and Technical and Vocational Education Training (TVET).
Currently, the i-Ready apprenticeship program is open only to Bachelor's and Higher degrees. However, this program is limited to two additional levels: Diploma level based on Brunei Darussalam Qualification Framework (BDQF) Level 5 (HND or Advanced Diploma) or equivalent, and Technical and Vocational Education and Training (TVET), BDQF level 2 to 4.
The apprenticeship program for all three education levels I mentioned was for a period of only 18 months compared to the current 36 months. With this change, it will open up many opportunities for qualified local children to participate in the programs.
In the meantime, while undergoing the program, the Government will finance apprenticeship allowances for a period of 18 months at the prescribed rate of BND 800 per month for Bachelor's Degree and above (as currently accepted), BND 600 per month for Diploma (Level 5) and BND 400 per month for Technical and Vocational Education Training (TVET). In addition, the Government will also fund TAP and SCP contributions on behalf of the companies concerned.
Furthermore, private companies intending to pursue the i-Ready Apprenticeship Program for these three levels of education are required to fund top-ups with a minimum rate of BND 400 per month for Bachelor and above, BND 300 per month for Diploma (Level 5) and for Technical and Vocational Education Training (TVET) begins the 11th month of the apprenticeship period.
SEVENTH; Job Center Brunei (JCB) portal upgrade. The tool is to improve the effectiveness of the job vacancies advertised in the Job Center Brunei Portal (JCB) which will include some new functions including;
Job Matching to local job seekers automatically where they can receive notification of new job positions being advertised in accordance with the suitability and interest of the local job seeker;
Local job seekers will receive their application status in real time, where they can follow up with the company;
Provide reports on the compatibility of local job seekers based on the criteria of the job where this is done automatically using algorithms and probability scanning that can be used by the Government and the private sector; and Companies can get more comprehensive Talent Profile information.
All facilities provided through this portal will be free of charge. Local employers and job seekers who are not registered with the Job Center Brunei (JCB) are encouraged to do so via the website www.jobcentrebrunei.gov.bn.
EIGHTH; MPEC will continue to work with the company to learn more about projected human resource needs.
This is specific to the types of businesses identified that will require additional workforce such as e-Commerce or online business, security services, cleaning services, manufacturing and delivery.
The JCB will assist in facilitating the fulfillment of any human resource needs by providing services such as sending SMS to local job seekers, providing talent pools for companies to use and providing a virtual interview platform. As a result of this effort several companies have shown interest in providing employment to local children.
For more information on companies and local job seekers interested in contacting JCB at: +673 8239933
Email: [email protected] Website: www.jobcentrebrunei.gov.bn.