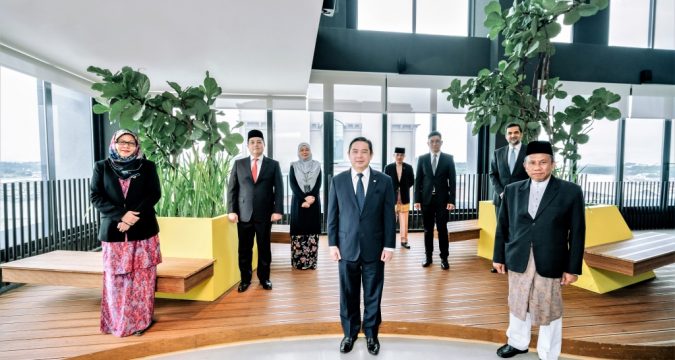 Bank Islam Brunei Darussalam (BIBD) today held its Annual General Meeting 2020 in review of a remarkable 2019 financial year during which the BIBD Group recorded impressive net profit and a strong balance sheet .
In 2019, the nation's largest Islamic financial institution, posted a full year income of $342.9 million – a 5.2 per cent increase from the $325.9 million recorded in the prior year. Overall, the Group achieved an increase of 5 per cent in net profit for 2019, rose to $155.4 million from $147.9 million in 2018.
The Group's total assets further strengthened at $10.7 billion in 2019, an incremental 6.2 per cent from the $10.1 billion posted in 2018, the highest recorded total asset to date. This further fortified BIBD's position as the market leader in Brunei with substantial market share in both retail and corporate segments.
BIBD also achieved a strong Return on Equity (ROE) to its shareholders at 12.3 per cent, enhancing returns and value to shareholder.
"Alhamdulillah, we are very delighted for another outstanding year for BIBD which has been made possible with the support and trust of our shareholders, customers and all relevant stakeholders," said Yang Berhormat Dato Seri Setia Dr Awang Haji Mohd Amin Liew bin Abdullah, Minister at the Prime Minister's Office and Minister of Finance and Economy II in his capacity as Chairman of the BIBD Group of Companies.
"BIBD will continue to amplify efforts towards stimulating the country's economic growth and initiate undertakings that will help us diversify our income stream to provide better returns to our shareholders. We stand committed to the vision of driving BIBD forward as the preferred choice for Bruneians and In Shaa Allah, we will continue to contribute significantly to our customers, shareholders, our community, and our country."
Meanwhile, Managing Director and CEO of BIBD, Mubashar Khokhar, congratulated and complemented the efforts of the entire BIBD Group and believed that BIBD's strong governance and strategies have contributed to the possibility of achieving optimal returns for its customers and shareholders.
"Alhamdulillah, BIBD is very blessed to have such a dedicated and dynamic team. All our achievements in 2019 are developed by every individual employee who contributed towards the Bank's aspirations to reach its ultimate mission and at the same time to obtain optimal returns for our shareholders and customers," he said.
"It has been an inspiring journey and I am honoured to be part of a dedicated and passionate team that provides an abundance of positive energy towards our cause to influence businesses and communities across the nation."
During the meeting, shareholders also approved the financial statements for the year ending 2019 and BIBD demonstrated continued commitment to shareholders by declaring a dividend of 18.38 cents ($0.1838) per share, an increase of 51% from the previous year.
Owing to the global pandemic COVID-19, this year's AGM was convened in a manner to minimise the risk of the virus widespread. In the interest of shareholder's safety and health, and in line with the recommendations by the Ministry of Health, AGM 2020 was convened through the attendance of designated proxies.
This proxy arrangement ensured the physical attendance of only the necessary participants without compromising or affecting the rights of shareholders to participate and vote at the AGM.
Present at the event were BIBD Chairman of the Board, Yang Berhormat Dato Seri Setia Dr. Awang Haji Mohd Amin Liew bin Abdullah, Chairman of the Shariah Advisory Body of BIBD, Yang Mulia Dato Seri Setia Dr Haji Mazanan bin Haji Yusof, designated proxies and CEO and Managing Director of BIBD, Mubashar Khokhar.