Just before National Day, I decided to do quick survey to gauge public perception of the various ministries in our government. The idea was sparked by RA's Twitter Poll for the most efficient government agency, the results of which I quote below: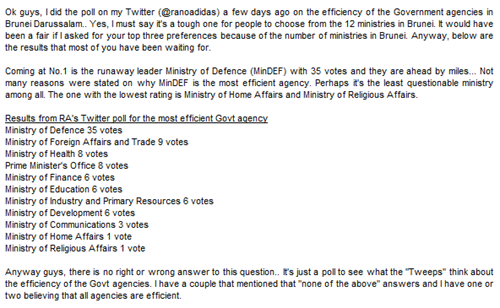 After a sputtering start on the unofficial ministerial survey, it is now humming along nicely. This is a snapshot of the current responses to the survey. It will be updated periodically and I will leave the survey open for people to still participate until May, when the term for the ministers end. If you haven't responded to the survey, you can still do so by going here. Please do spare five minutes to do so as this is your opportunity to give our ministers something to mull over 🙂
A few caveats before proceeding:
This is an UNOFFICIAL survey initiated by anabrunei.org and is in no way affiliated with the government authorities.

It is an ANONYMOUS survey which means no names or other demographic data are collected, and thus, may not be representative of the Bruneian public.

Nevertheless, this survey is done in the spirit of constructive feedback specifically from interested internet users.
The following charts summarize the ratings given by respondents for each ministry based on specific areas of performance. The scale is from 1 to 5 where 1 represents "Extremely dissatisfied" and 5 represents "Extremely Satisfied".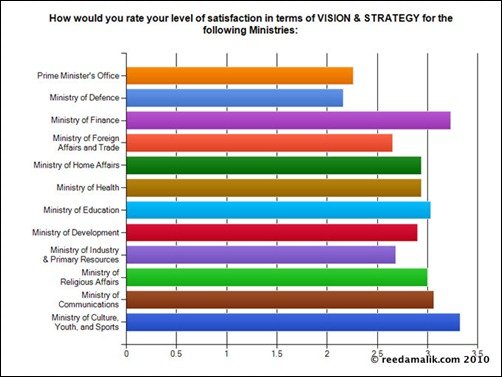 General comments on Vision & Strategy:
These are based as of year end 2009. The year 2010 has started positively, in my own humble opinion. However it remains to be seen whether this is a reaction to the previous year or an attempt to be in a good light prior to the legislative council meetings later this month (March).

Look into the problems of what going to be affected in the big picture. Not trying to look good but evetually it is not. Stop using the veto power to over power the lower ranking staff and officers, just to make themself look good. One thing about big, the bigger it is the louder bang happen when it fall. Cheers and have a good day.

The deliverables of the ministries rated as 'extremely dissatisfied' does not justify the perceived visions.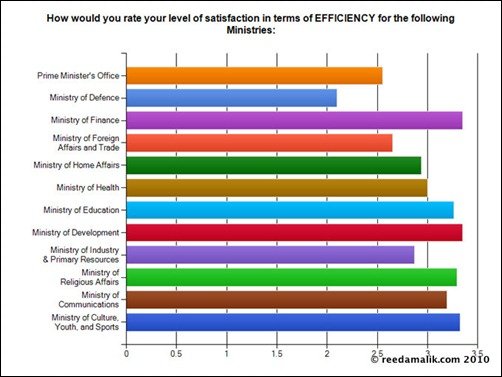 General comments on Efficiency:
All things considered everyone can improve. The various ministries with greater exposure to the public, like communications; health;home affairs; have the various agencies underneath them to thank for such a poor track record.

Our service and quality in this regard, compared to other countries, is simply appalling. I don't care if Bruneians behind the counter are nice, there is no point if they can't do what they are supposed to do.

Finance : Check before aprroving, not by end of the day blameing other.
MORA : Student transport and Religous Curiculum need to be revised
MOE : SPN21 (Are we ready yet) Book not fully avialable. It's have been a year.
MOH: Health Clinic need staff need to be polite not pain in the ass.
MOC : Demand on higher internet connection not just individual who have rank

Generally, no accountability and sense of ownership. It is even terrible for the Ministry of Home Affairs (Labor and Immigration Department).

ok kali, but keep on modernise, Brunei yakin!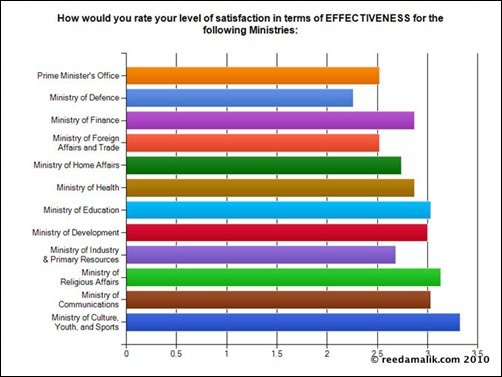 General comments on Effectiveness:
Lack of transparency particularly the notorious labor department. The deliverables they make does not reflect what it says on their tin (TPOR). Guidelines are extremely vague. There is always a chicken and egg situation for getting a quota. This suggests lack of coordination with other ministries. Businesses are know to have failed because of them. I challenge their effectiveness if a service audit is thoroughly carried out on them. What is ironic is that some companies that do not seem to qualify for quotas seem to get them VERY easily. I wonder why.
General comments on People Friendliness:
Generally, no one is customer centric at ALL the ministries. I dont have to give examples. Everyone will agree to this.
Below is a summary chart showing ratings in each performance area for all ministries at a glance. Its surprising (to me anyway) to note here that the Ministry of Finance rated highest in terms of Strategy & Vision, while Ministry of Defence rated lowest. Equally surprising were the Efficiency ratings where again, MOF was highest rated while Defence was lowest.
Ministry of Culture Youth and Sports was highest rated in terms of Effectiveness while Defence was lowest rated. This is certainly an unexpected result! In terms of People Friendliness, Ministry of Education was rated highest while Ministry of Industry and Primary Resources was rated lowest. Again, I find this result very interesting.
I would love to hear from you about these results! Please comment!
Click on the image for larger version